Dress Code
Sixth Form students are role models for our school community. As such, they are expected to dress smartly. All Sixth Form Students are issued with an ID pass and a lanyard, which they must wear at all times.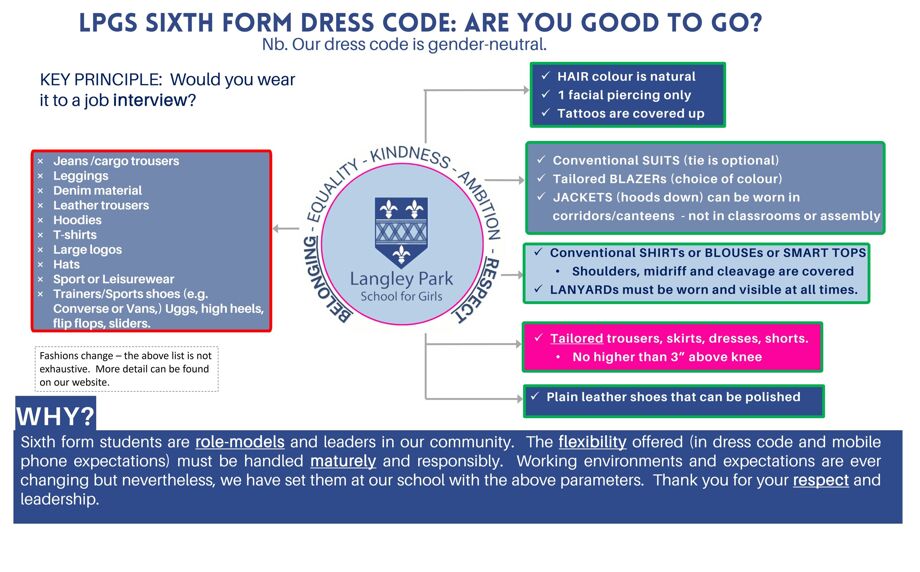 Conventional suit, shirt and tie
Tailored blazer
Tailored trousers, skirt or dress. The skirt or dress should be no higher than 3" above the knee.
A conventional blouse or shirt
A fine knit jumper
Plain leather shoes, capable of being polished.
Unacceptable items:
Jeans or trousers with pockets on the back that look like jeans or combat trousers
Jeggings or leggings
Corduroy or denim material in any colour
Shorts or skorts
Leather trousers
Hoodies
T-shirts
Logos
Strapless tops, sheer or low cut clothing that exposes the midriff or shoulders
Hats or caps
Sportswear / leisurewear, including velour and cotton jersey
Unnatural hair colourings or extreme hairstyles
Visible tattoos and excessive piercings (one facial piercing only)
No trainers, sports shoes (Converse, Vans etc), Uggs, Timberland or similar style boots, excessively high heels or flip flops
Coats are not to be worn in classrooms or assemblies.
Students may bring in an appropriate change of clothes - to be worn only in the relevant lesson - for certain subjects, e.g. PE, Drama, Art.
Due to ever-changing fashions, the list above is not exhaustive. We do ask that parents and carers support students in using their judgement for some specific garments. We reserve the right to send a student home to change their outfit should we judge their clothing to be in breach of the dress code. Time spent this way will be made up by the student in a Senior Detention.