Firefly / Parent Portal
All parents have access to the Firefly parent portal which will allow parents/carers to login to Firefly using their own username and password.
As well as general information about the school, you will be able to access your child's individual timetable, homework tasks, rewards and sanctions. For example, did you know your child is able to download Office 365 for free on up to 5 different devices?
You can log onto the VLE from your PC, Mac, tablet or smartphone or download the smart phone app. Your username will be the email address you provided to the school when your child started at LPGS.
A Firefly support drop-in is available for students in M201 at 3.15pm on Thursdays.
Accessing the parent portal
To get started:
Firefly works with most browsers and can be accessed via PC, tablet or smartphone. However, we recommended using Chrome.
Click on the parent portal option (on the right hand side or below the login fields if you are on a phone)
Click on the Activate your Account link at the bottom of the window.
Enter the email address the school uses to communicate with you and press 'Activate Account'
An e-mail should be sent to your email account
Click on the link within this email to finalise the activation
When you return to the login screen you can enter your email and new password to login as normal.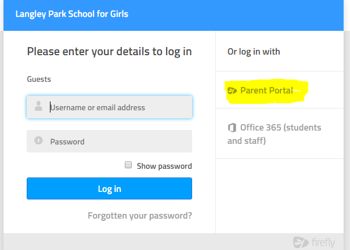 Please ensure your login details are kept secure and contact us immediately if you think someone has gained unauthorised access via your account.
If you have any problems accessing the Firefly, please email firefly@lpgs.bromley.sch.uk.