News
English Literature Trips
Posted on: November 8th - 2019
Westminster University Y12 & Y13
Students visited The University of Westminster, situated on Regent Street, which is also the site of the first public cinema. In a knowledge rich environment, students explored the contextual influence in both The Handmaid's Tale and War of the Worlds from two amazing lecturers, Simon Avery and Alexandra Warwick. Year 12 and 13 demonstrated higher order thinking through both critical and evaluative responses which proved to be useful towards their progress in their A-Level literature course.
"I was really engaged throughout. Enlightened like the metaphysical poet we study, Donne." -Thrissa

"I was engaged throughout as it was really interactive" - Ayse

"It was unique. We were all submerged into the poetry world" - Zhanai

"The lecture has allowed me to approach poetry with a more positive and free mindset" - Holly

"The lecture was mind blowing" - Sevda
Goldsmiths University of London Y12 & Y13
On Th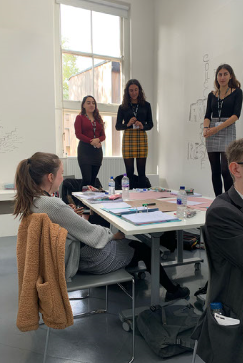 ursday 10th October, Year 12 A-Level literature students had the opportunity to attend Goldsmiths, University of London. With a personalised seminar delivered by Dr Francis Gilbert, Senior Lecturer in Education and Head of the MA in Creative Writing, students developed creative approaches to poetry. They emerged themselves in John Donne's world and explored his different poetry personas. Drawing knowledge from the seminar, students are now able to articulate even more informed and challenging responses during in class discussions.
"Really informative and helpful to understand 'The Handmaid's Tale' – Cagla