Results
A-level Results 2020
Building upon the exceptional results of summer 2019, staff and students are delighted to celebrate the success of our Year 13 students in this very unique year. We are immensely proud of how they have managed the disappointment of being denied the opportunity to demonstrate all they have learnt. In spite of the significant challenges our students faced, they were able to provide significant evidence to ensure that their centre assessed grades (CAG) delivered an increase, not only in attainment, but also progress from their individual starting points.
Progress and ALPS score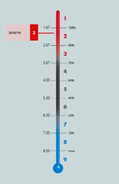 The progress students made increased by the largest margin since this became a measure and the average grade achieved across the board is now a B.
ALPS score (a measure of students' progress nationally) is on a 9 point scale, 1 being the highest. In 2019 our overall score was a 2. This tells us that students are achieving better than they would in most other Sixth Form schools across the country. The grade is generated by comparing our students' performance and progress with all others at state, private, selective and non-selective schools. Whilst educational performance data was not published for 2020, our internal data shows that we had been able to make further improvements and the ALPS score from our CAGs is a 1.
Exceptional Attainment
In addition to the overall improvements and progress, individual departments have cause to celebrate (see link at bottom of page for subject breakdown). Whilst we celebrate the hard work and commitment of all our students, we particularly wish to recognise those with exceptional attainment. Students who have achieved impressive results before even their mock examinations are taken into consideration include Xin Yi A*A*A, Elizabeth A*A*A, Chloe A*AA, Ava A*AA and those studying a vocational programme of study, Eva D*D*D, Ella DDD and Koray D*DB. Students who have achieved particularly impressive results, even before their higher school based mock results are taken into consideration are Jessica AAAB (A*AAA), Wren AAA (A*A*A*), Alicia AAA (A*A*A), Katharine A*AB (AAA), Lauryn A*AB (A*A*A*) and Olivia A*AB (A*AA).
Our thanks go to staff, students and their families for their incredibly hard work.
Click here for a break down of results by subject