News
Y11 Careers Skills Day
Posted on: March 28th - 2019
A huge 'thank you' to everyone who took part in the recent Year 11 Careers Skills Day. I literally could not have organised this event without the massive help that was given so generously by all the speakers, staff and governors both on the day and also during the many weeks leading up to the event.
We had a brilliant day, with over 38 different people coming into school from the list of employers below, giving their time freely to talk about their occupations and their own personal career stories. The girls heard from such a variety of speakers and found out that many of us have had varied and different career paths and actually school is just the start of a journey, it is completely up to them where they end up.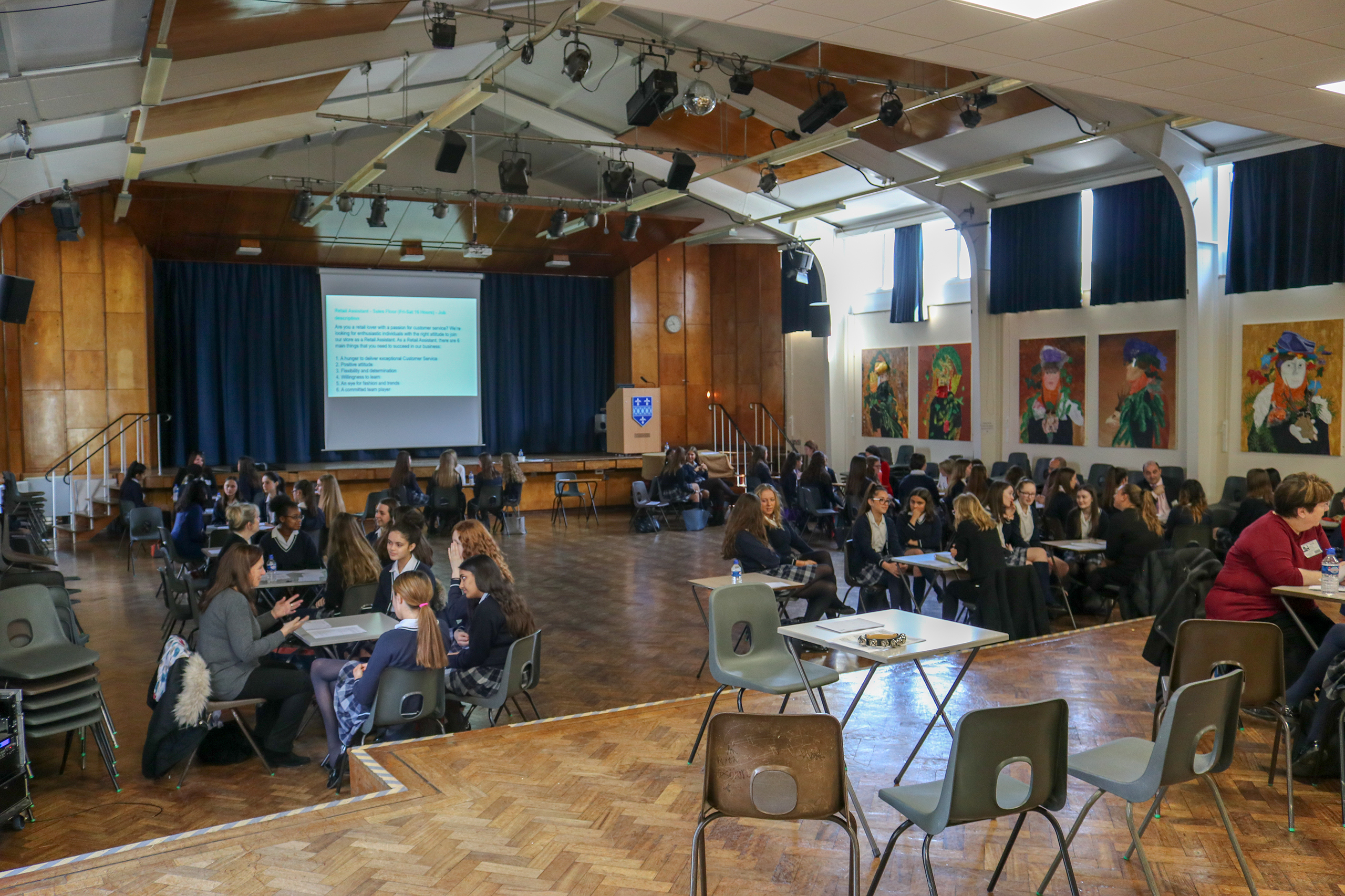 As well as listening to speakers, each student had an to opportunity to have a couple of 'mock' job interviews which was a part time retail vacancy. All the interviewers were so impressed by how the girls coped with their interviews. They were all pretty nervous (one student commented to me that "this does not feel like a 'mock' interview Miss!"), but they did amazingly well, as I knew they would. They are more confident and much more impressive than they realise. Just a couple of the many complimentary emails I received are below:
"All of the girls were so polite and far, far more confident then I had been at their age" - Neuroscientist
"It was a pleasure to be involved and I am glad that the day was a success. The event was well organised and had the right level of interaction for the girls to benefit from it." - Thackary Williams Solicitors
"Tomorrow's stars" - STEM Ambassador
"They all came prepared, their communication skills were excellent and they took it seriously" - Canterbury Christ Church University
I feel I must make a special mention to Julie Bowen, who not only gave talks about working in the recruitment industry and took part in the mock interviews of the girls, she then led the afternoon session on Personal Branding, that was excellent. Her commitment to Langley Girls is enormous and she has helped from the very first day of the Careers Academy.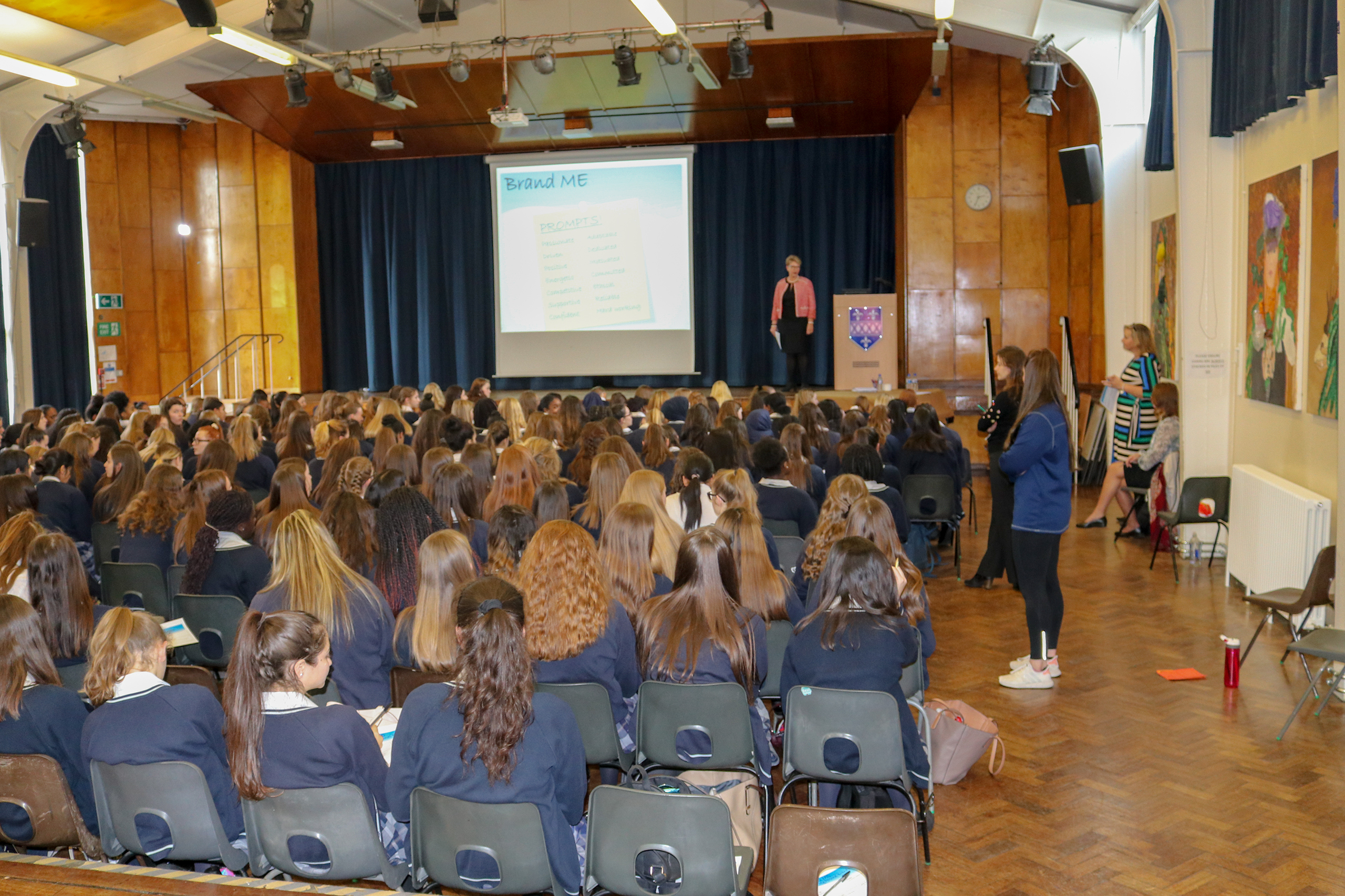 Catherine Camp from the Apprenticeship Service told all the girls about the opportunities that are on offer and even more that are coming along in the future. Samantha Ridgewell representing Empower Development spoke very personally about her experience in the working world and gave some absolute gold nuggets on what employers are looking for and how every student can help themselves to look better on their CV and show off their own skills.
The day finished with Sam Carrington, from Smirk Experience – harnessing the power of comedy – talking to us about communication skills. Sam takes stand-up comedians into major companies to work with their staff on staff training days. He was full of information, and also very funny!
I received lots of great feedback for the day from the students, below is just one of the many comments from Year 11 students
"I learnt a lot- how to write a cv tailored to a job tips on how to do an interview tips on following what you enjoy examples of different kinds of jobs people do and much more... thank you for providing our year with such a valuable day, I think it was well put together, a challenge but also enjoyable" - Year 11 student
I was so proud of every single student during a long day. The student above was right, it was a challenge and I am delighted that they found it enjoyable. Their maturity and commitment really shone through during the every session and I am so proud to be their careers adviser.
Joanne Carroll - LPGS Careers Academy
If you would like to get involved in any of the activities we organise at The Careers Academy, please email me and I would be very happy to have a chat and find out where we can best use your talents:
Special Thanks
Here are all the companies who sent staff to help during the day : Jaynered Creative Design - CBRE surveyors - HSBC bank - Ato tours - Sparkles and Millie Nursery - BDO accountants - Conde Nast - S Three plc - Ravensbourne College of Design - Mental Health Nursing - White Hat Apprenticeships - Bromley Healthcare - Midwifery - Forensics - Chartered Occupational Psychologist - Secondary teaching - NHS Scientist training specialising in cardiac - RSPCA - Exposed Solutions - Thackray Williams - Stevensons Plumbing - London Fire Brigade - Smirk Experience stand-up comedian - National Apprenticeship Service - Empower Development.