News
London Youth Games Success
Posted on: May 26th - 2019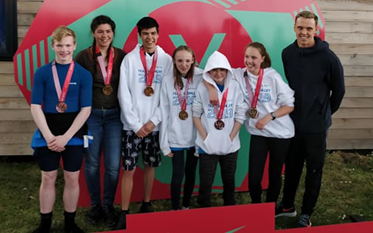 On Saturday 18th May Kate Bradley and I went to Lee Valley White Water Centre with Bromley Canoe Club. We were part of the London Youth Games kayak sprint team – the canoe club also had a slalom team attending the day too.
Kayak sprint is like a normal running race but in a sprint kayak, in slalom you paddle the boat through gates.
The youth games organisers changed the boats that we use to sit on tops, I felt that the new boats were harder than the original ones.
The races were split into male and female and by age groups. I competed in the 11 to 12s. There were 5 people in my heat. I came fourth but didn't make it to the finals, overall, I came 9th.
At the end the winners from all the races were announced along with the team scores. The Bromley sprint team overall came 3rd so we each got a bronze medal.
Our medals were presented by Olympian canoer Joe Clarke.
Isabel C 7KC