News
Computer Science Roundup
Posted on: April 5th - 2019
Spring Term is always a busy one and it has been no exception for the Computer Studies department with exciting activities both in and out of the classroom.
Close Brothers
The term kicked off with year 11 and year 12 students hearing from Mrs Beney. She shared her journey from the LIFFE trading floor to her current position as Test Practice Manager at Close Brothers as well as seeing if the group could think like testers and write suitable tests for a date field.

Here is some of the feedback from the students:
I thought people just go into a set job, I'd never heard of graduate schemes which sound really interesting and will give me the chance to try a variety of roles. It was also interesting to hear about the different roles Mrs Beney has taken on over the years, I didn't really think jobs were that flexible and that makes me less scared about making the wrong choice as there will always be new opportunities that you can grab on to.
It reminded of the other skills needed in the workplace such as communication, decision making and management skills as well as academic qualifications.
It was nice to hear how although women are still in the minority her experiences working in a male dominated industry have been positive and more positive that her non IT career (at LIFFE). A huge thank you to Mrs Beney for taking the time to visit us and delivering an engaging and interactive session.
Game Club

Game club was relaunched this term where we dusted off the Nintendo Wii and welcomed fellow gamers to pit their skills against each other. We kicked off the relaunch with a Mario Kart tournament which saw over 60 students from Y7 – Y13 take part. The final saw Belle L from 8LF take the crown against fellow drivers Laura B, Hannah D and Eloise D.
We have since seen the girls display their talents in golf, bowling and tennis and hope to unfurl the dance mats after the Easter break!
Coding Club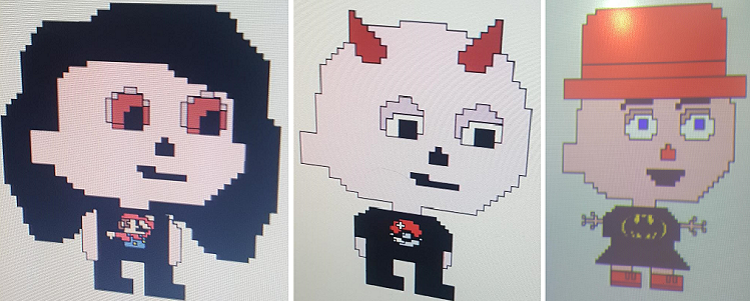 Coding club continues to thrive with the girls experiencing a broad range of coding techniques from designing characters using HTML and java script to programming robots with ultra sonic sensors. After a short break after Easter we will return in the final half term with some exciting new projects!
Tomorrow's Engineers Robotics Challenge
In February six students from years 8, 9 and 10, along with Mr Brookes, braved the snowy conditions to head up to the Tomorrow's Engineers Robotics Challenge held at the SalesForce Tower in central London. They have been attending an after school club each week to prepare for this which involves creating and programming a robot using the Lego Mindstorm kits, to complete a number of set tasks.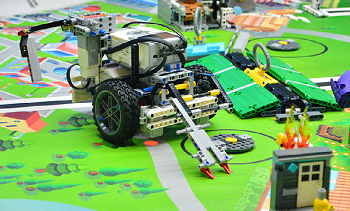 SalesForce are a large multinational company who were hosting the event for the first time in their very impressive offices on the 30th to 37th floors of the building, which is the third highest in London. The location itself was one of the highlights of the day especially when the students found out that each floor of the office has a free kitchen area complete with stocked snack draws and drinks fridge!
The day started with an inspirational talk from one of the SaleForce engineers, a lady from Barcelona who had actually taken part in a very similar Lego robotics competition around 10 years ago. It was then quickly in to the speed challenge where a slow and steady approach saw the Langley team finish third. There then followed a group presentation, teamwork challenge (where the Langley team took a very inventive approach to stacking cups without using your hands), and finally the robotics challenge where they had to complete as many of the challenges as possible in 5 minutes.
The day ended with the prize presentation where the Langley team picked up the award for best designed robot. A successful end to a great day!
Jade Returns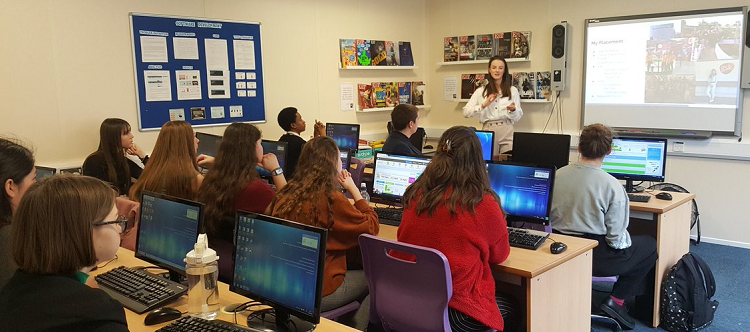 In 2014 Jade sat in room B103 as a Y12 student taking her first steps into the world of computer science. Just 5 years later she was standing at the front of the very same classroom delivering an engaging and informative talk to the new wave of students; sharing her experiences and successes since leaving LPGS and answering pertinent questions such as "what is the difference between a lecture and seminar?" and "can you eat in a lecture?"
After winning a BCS award in her first year at university for getting the highest marks on the course Jade has continued to thrive and was awarded a 'GSK Placement Student Recognition of Excellence' certificate and was nominated for a 'Science Recruitment Group IP Employee of the Month' award during her industrial year. We wish Jade the best of luck in her final year at the University of Kent and with her new job in Canary Wharf.
IET EngFest
Earlier this year we were lucky enough to be allocated tickets for the IET EngFest event at Savoy place which took place in April. Sixth form students were lucky to hear from a range of speakers including:
Futurist Brian David Johnson who reminded us that engineers have the power to change the world for the better
Technology writer for the BBC, Bill Thompson who reminded us we shouldn't just do things because we can
Mathematician turned swarm roboteer Laura Gemmell who gave us an insight into how swarm robotics may allow for game changing chemotherapy treatment and simple surgical procedures.
Nasa's Anita Sengupta who shared insights into the Mars exploratory work Nasa are doing
Technical manager of the Edinburgh university 'Hyped' team who are experimenting with hyperloop technology and meeting Elon Musk in their free time.
And Steve Mould (yes THE Steve Mould of the 'mould effect') who shared his enthusiasm of all things science They were able to get hands on with circuits, energy generators and virtual reality in the exhibition.

To keep up to date on the latest department news follow us on twitter
If you are able to offer our students an insight into the world of tech through a talk, visit or work experience please do contact Miss Kelly