News
Speak Up, Speak Out
Posted on: February 14th - 2019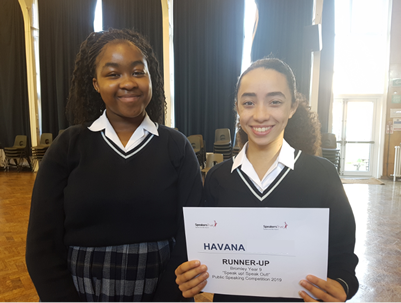 On the evening of 12th February the Year 9 Speakers Trust 'Speak Up, Speak Out' Borough Final was held at Bullers Wood School. LPGS Finalists Havana and Tanya were great ambassadors for the school, and both delivered their personally written speeches to great effect.
Havana went on to gain Second Place in this very high standard contest, judged by a prestigious panel including the former Mayor of Bromley, a top London Barrister and a Superintendent in the Metropolitan Police Service.
Havana's "What is 'Normal'?" speech was a particular hit with the judging panel and the audience. She won a cash prize, and a 2nd place trophy and certificate. Congratulations to both our LPGS Finalists who were so impressive in this competition against the other Borough Secondary Schools.
Mr. Green