News
A futuristic approach to history lessons
Posted on: February 2nd - 2019
The GCSE history syllabus is increasingly packed with content that has to be memorised. Can technology make this process simpler?
Teacher of History, Lucy Jerry has been looking at how technology can bring history to life and aid in the retention of the newly extended GCSE syllabus. Click here to view her experience with:
She loves history, but she does find it very hard to remember all the dates. I'm sure I can't be the only history teacher who has found themselves in this situation.
About three hours in to parents' evening, sitting opposite Olivia and her parents, her mum is explaining how frustrating her daughter finds it that, despite her best efforts, she struggles to retain all of the factual content that is required as part of the newly extended GCSE syllabus.
In truth, I feel a lot of sympathy for Olivia and her peers. The GCSE has never been more difficult and there is more to remember than ever. And while these skills are demanded by the curriculum, the focus in today's workplaces is on how people learn, how adaptable they are, how they solve problems and challenges, not what they learn.
But the question remains: how can we help students like Olivia to retain this information and ensure that her dedication and commitment is rewarded with the qualifications she deserves?
Technology may well be able to provide the solution. I have always been a proponent of using as much technology as possible in the classroom and I have seen its capacity to make history – and indeed every subject – more accessible, universal and engaging.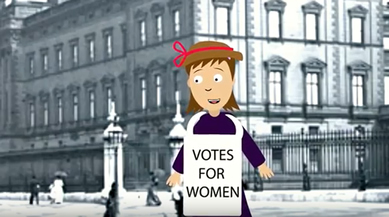 I will admit that this faith is not always rewarded. One particularly memorable mishap involved Year 7 students who enthusiastically returned from a QR Code treasure hunt to tell me that one of the links that should have taken them to a brief explanation of medieval serfdom had instead somehow treated them to the delights of babies eating lemons on YouTube.
However, my belief in the power of tech remains. It is becoming a bigger and bigger part of students' lives, not to mention the employment market that they will eventually enter. We are teaching a generation that interacts with technology daily, engaging with screens while scrolling and swiping through life.
My students are struggling more and more to focus on huge quantities of text. While we do have a responsibility to provide them with the tools to help address this, we also need to adapt our teaching methods to the modern world.
I was delighted, then, when I was approached by my school's head of visual arts to ask if I would be interested in attending a workshop on how to use Adobe Spark and Creative Cloud in my classroom.
And so I found myself in the cavernous edifice of the Excel centre at the BETT convention, surrounded by enough processing power to launch the Starship Enterprise, with an enthusiastic Olivia and several of her peers in tow.
Over the space of six hours, the Adobe team patiently explained how this technology could be used not only to bring history to life, but to help bring creativity into the classroom, a skill that will be much-needed by our students as they embark on their careers.
As a group, we decided to experiment with the Adobe Character Animator to create an animated Millicent Fawcett to explain the arguments for and against women's suffrage.
The software also allows students to create Instagram profiles of key characters from the past; another fun way to demonstrate their knowledge.
The students were engaged throughout and Olivia was particularly excited by the feature that allowed her to create beautiful visual graphics and prompts in order to retain those difficult facts and figures in her memory.
I came away from the convention more convinced than ever that well-used technology can empower students like Olivia to find their own solutions to the increased content demands of the GCSE syllabus.
What's more, working with this tech also prepares them for the rapidly changing world, helping them develop the creative problem-solving skills they will need to take their places in an employment market with jobs that may not even exist yet.
To paraphrase John Donne, no subject is an island, and history, like all subjects, should provide students with opportunities to engage their creativity with the latest tools. These programs should not just be used within media and the visual arts.
So, in response to the brow-beaten teachers, concerned parents and, most importantly, the stressed-out students who are concerned for the here and now, about how they are going to remember so many key dates and events from the past, perhaps the solution is to look to the future.